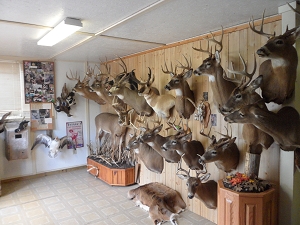 Thank you for visiting A Sportsman's Dream Taxidermy, we are located in Galesburg, Michigan.

Hi, my name is Ryan Olson, Michigan Taxidermist for A Sportsman's Dream Taxidermy. My career started out as just a hobby doing a few deer and birds for myself. After a few years of people requesting me to do their work, A Sportsman's Dream Taxidermy was born.

I graduated from Western Pennsylvania School of Taxidermy with world renowned teacher, Mark Jordan. Here we specialized in Game heads and Fish taxidermy.

My taxidermy skills include everything from North American small game life-size, to big bugling Bull Elk, from Small bluegills to giant king salmon reproductions. I have done several different African life size and game head mounts. We offer a complete range of taxidermy service from A-Z.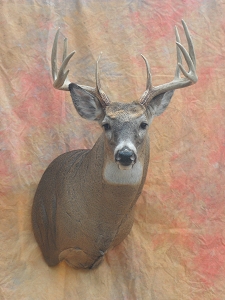 We invite you to stop in our show room so that you can see the top notch quality taxidermy work that we provide. Our main goal is to recreate the exact moment when you pulled the trigger or when you set the hook. We use only top notch products and up to date techniques to create a once in a lifetime mount.
I want to thank all of our previous customers for entrusting your trophies with me. Here you will find that we offer some of the best taxidermy work in the area. Through many years of being an avid hunter and fisherman, I know the importance of a very high quality taxidermy mount. Our goal is not to only impress you, but impress anyone who views your trophy.
Our shop is located in Galesburg, MI and near:
Kalamazoo, MI - 8 miles
Portage, MI - 3 miles
Three Rivers, MI - 14 miles
Schoolcraft, MI - 5 miles
Fulton, MI - 4 miles








Call for special pricing on camo dipped skulls!"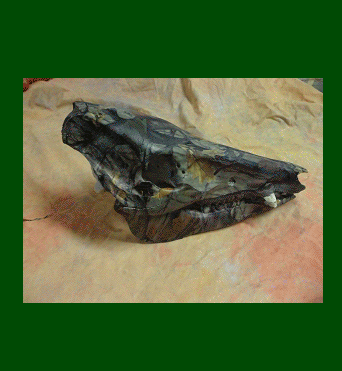 Thank you for visiting A Sportsman's Dream Taxidermy.
---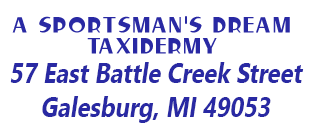 COPYRIGHT © 2018-INFINITY A Sportsman's Dream Taxidermy - WWW.SPORTSMANSDREAMTAXIDERMY.COM